AAA reports Tennessee Gas Prices Rise 6 Cents
Clarksville-Montgomery County continues to have Second Lowest Gas Prices in Tennessee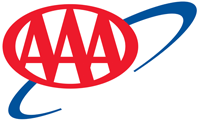 Tampa, FL – Gas prices increased across most of the country during the past week, yet states in the southeastern U.S. still have some of the cheapest prices in the nation.
Tennessee gas prices increased 6 cents during the past week. The state average of $2.34 is 10 cents more than a month ago, and 20 cents more than this time last year.
Highest and Lowest Gas Prices in Tennessee
The most expensive gas price averages in Tennessee are in Jackson ($2.37), Kingsport-Bristol ($2.36), and Johnson City ($2.36)
The least expensive gas price averages in Tennessee are in Chattanooga ($2.25), Clarksville-Hopkinsville ($2.29), and Cleveland ($2.30)
"Gas prices have yet to travel south for the winter, thanks in large part to a strong oil market," said Mark Jenkins, spokesman, AAA – The Auto Club Group. "The rising price of oil has increased the cost of producing gasoline."
Oil Prices Reach New Heights
The price of crude reached new multi-year highs last week. Factors like lower levels of both domestic production and supply, cold weather in North America, unrest in Iran, and strong economic growth helped spur the increase.
WTI closed at $64.30 per barrel on Friday – the highest daily settlement since December 2014. This is the fourth consecutive week of gains, amounting to a total increase of $7.00 since mid-December 2017.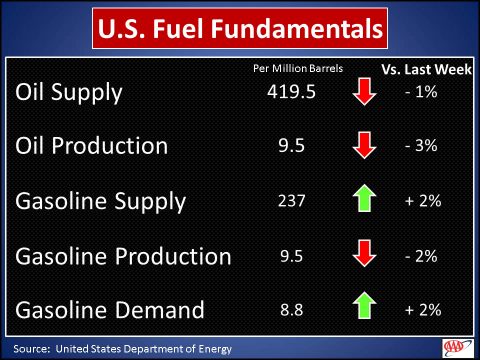 The Energy Information Administration reported last week that domestic crude oil production dropped by 290,000 b/d. The decline is the largest U.S. production drop since the highly active hurricane season ended in mid-October last year.
Moreover, crude inventories around the country dropped by 4.9 million barrels. The decline has given some market observers encouragement that oil prices will continue to climb as production slows and global supplies tighten.
Futures spot prices are above $63.00/b through July 2018. Although that does not guarantee crude prices will be remain at that level through the next seven months, this outlook could inspire explosive growth in the U.S. shale industry, which could push crude prices lower as a result of the increased global supply. In what could be a sign that this process has begun, U.S. energy companies added 10 oil rigs this week, the biggest increase since June, bringing the total rig count to 752, the most since September.
EIA's Energy Price Outlook
Gasoline
U.S. regular gasoline retail prices averaged $2.42/gal in 2017 and are forecast to average $2.57/gal in 2018 and $2.58/gal in 2019
Oil
U.S. crude oil (WTI) spot prices averaged $50.88/b in 2017 and are forecast to average $56/b in 2018 and $57/b in 2019
U.S. crude oil production averaged an estimated 9.3 million barrels per day (b/d) in 2017. U.S. crude oil production is forecast to average 10.3 million b/d in 2018, which would mark the highest annual average production in U.S. history, surpassing the previous record of 9.6 million b/d set in 1970. EIA forecasts production to increase to an average of 10.8 million b/d in 2019 and to surpass 11 million b/d in November 2019.
Gas Price Tools for Reporters/Consumers
Highs and Lows of 2017*
National: the highest average price for gasoline was $2.67 on September 8th. The lowest was $2.23 on July 5th.
Florida: the highest average price in was $2.73 on September 9th. The lowest was $2.13 on July 17th.
Georgia: the highest average price was $2.76 on September 12th. The lowest was $2.08 on July 5th.
Tennessee: the highest average price was $2.60 on September 10th. The lowest was $1.99 on July 5th.
[320center]
Current and Past Price Averages
Regular Unleaded Gasoline
Sunday
Saturday
Week Ago
Month Ago
One Year Ago
Highest Price on Record
National
$2.529
$2.528
$2.492
$2.447
$2.343
$4.114 (7/17/2008)
Florida
$2.449
$2.450
$2.445
$2.393
$2.382
$4.079 (7/17/2008)
Georgia
$2.428
$2.426
$2.361
$2.308
$2.244
$4.164 (9/15/2008)
Tennessee
$2.336
$2.335
$2.278
$2.236
$2.132
$4.118 (9/15/2008)

Click here

to view current gasoline price averages
Gas Price Survey Methodology
AAA updates fuel price averages daily at www.GasPrices.AAA.com. Every day up to 130,000 stations are surveyed based on credit card swipes and direct feeds in cooperation with the Oil Price Information Service (OPIS) and Wright Express for unmatched statistical reliability. All average retail prices in this report are for a gallon of regular, unleaded gasoline.
About The Auto Club Group
The Auto Club Group (ACG) is the second largest AAA club in North America. ACG and its affiliates provide membership, insurance, financial services and travel offerings to over 9.4 million members across eleven states and two U.S. territories including Florida, Georgia, Iowa, Michigan, Nebraska, North Dakota, Tennessee, Wisconsin, Puerto Rico and the U.S. Virgin Islands; most of Illinois and Minnesota; and a portion of Indiana.
ACG belongs to the national AAA federation with more than 57.7 million members in the United States and Canada and whose mission includes protecting and advancing freedom of mobility and improving traffic safety. Motorists can map a route, identify gas prices, find discounts, book a hotel, and access AAA roadside assistance with the AAA Mobile app for iPhone, iPad and Android.
Learn more at AAA.com/mobile. AAA clubs can be visited on the Internet at AAA.com.