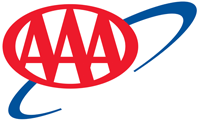 Tampa, FL – AAA reports that since Memorial Day the national average dropped six cents on the week, following a consistent downward trend.
The decline is unusual for this time of year. Pump prices usually trickle higher during the summer months due to increased demand. However, the latest Energy Information Administration (EIA) report reveals that total domestic gasoline inventories jumped a million bbl last week, helping to push pump prices lower.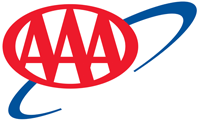 Tampa, FL – AAA says that today's national average is $2.74, which is seven-cents cheaper than last week, 13-cents less than a month ago and 18 cents cheaper than a year ago. Nearly every state's gas price average is cheaper than a week ago, a month ago and a year ago.
"Refinery utilization in the United States is at its highest level since early January, resulting in overall gasoline stocks at healthy levels to meet robust summer demand. Prices are dropping due to cheaper crude oil and at the same time U.S. supply is keeping pace with demand," said Jeanette Casselano, AAA spokesperson.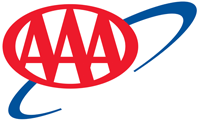 Washington, D.C. – AAA says Americans are changing their perception of what they consider "too expensive" when it comes to filling-up at the pump. AAA's 2019 Gas Price survey found that 50 percent of consumers think paying $3.00/gallon is too high – an increase of 30-cents from last year when half of consumers reported $2.70 as too expensive.
T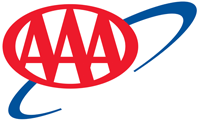 ampa, FL – AAA says the vast majority of the 37.6 million Americans who hit the road this past Memorial Day weekend found savings at the pump compared to last year's holiday. Today, 42 states and Washington, D.C. have gas price averages that are less expensive year-over-year, with Floridians (-31 cents) seeing the largest yearly change. Motorists in West Coast states are the exception, paying nearly double-digits more than last May to fill up.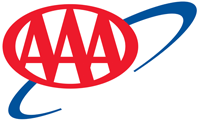 Tampa, FL – According to AAA, Gas prices are nearly six cents cheaper in some states across the country on the week, which has pushed the national gas price average cheaper by a penny to $2.85 today.
That average could have been even lower had a handful of Midwest states not seen prices increase by more than a nickel due to ongoing refinery maintenance.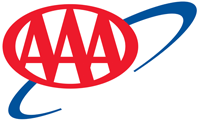 Tampa, FL – AAA reports that consumer gasoline demand this spring remains robust as stocks continue to decline.
In its latest weekly petroleum report, the Energy Information Administration revealed that while demand decreased slightly to 9.41 million b/d last week, the rate is more than 325,000 b/d higher than where it was last year at this time.
AAA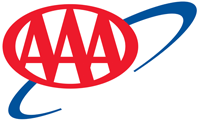 Tampa, FL – With only a penny increase on the week, the national gas price average saw the smallest one-week jump since mid-February. For the last eight weeks, weekly jumps ranged anywhere between a nickel and a nearly a quarter.
"On the week, 30 states saw pump price increases or decreases of three cents or less which helped keep the national average relatively steady, but motorists shouldn't get their hopes up just yet," said Jeanette Casselano, AAA spokesperson.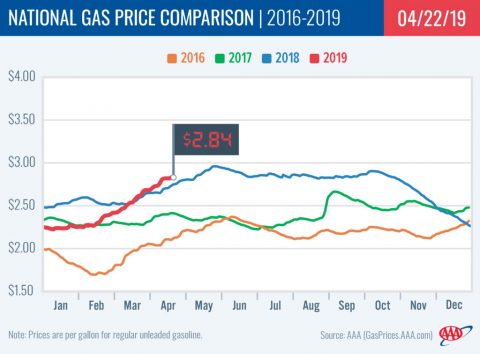 [Read more]
AAA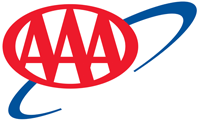 Tampa, FL – At $2.74, the national gas price average increased a nickel on the week and is eight cents more than last year at this time. And compared to one month ago, gas prices are 28 cents more expensive.
As demand holds steady and inventories continue to tighten, motorists continue to see gas prices increase in every region.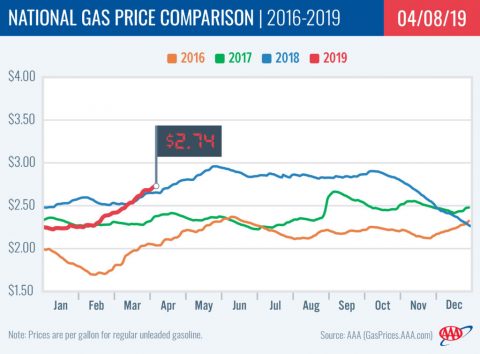 [Read more]
AAA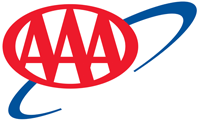 Washington, D.C. – Spring fever may be in the air, but American motorists already have summer road trips top of mind.
AAA's latest Gas Price survey found that if gas prices remain low, 1 in 3 Americans (33 percent) would likely plan another summer road trip while 27 percent would increase the distance of one – with Generation X more likely to do both than Baby Boomers.
AAA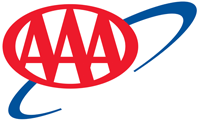 Tampa, FL – With an eight-cent jump on the week, at $2.62, the national average continues to trend more expensive since mid-February. While today's national average is nearly a quarter more expensive than last month, it is only two cents more expensive than last year at this time.
"Thanks to increasing demand and tightening gasoline stocks across the country, March gas prices came in like a lion and will not go out like a lamb," said Jeanette Casselano, AAA spokesperson.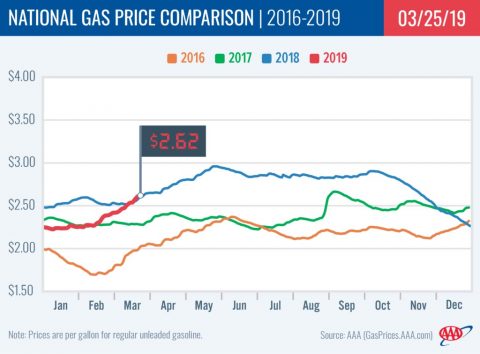 [Read more]