AAA
Tampa, FL – Dropping by two-cents on the week, the national gas price average is $2.95 reports AAA. This is the first time there has been a decrease in the national average since mid-March.
The drop, albeit it small, follows the latest Energy Information Administration (EIA) report showing consistently strong demand although it is running slightly below (100,000 b/d less) the same week last year.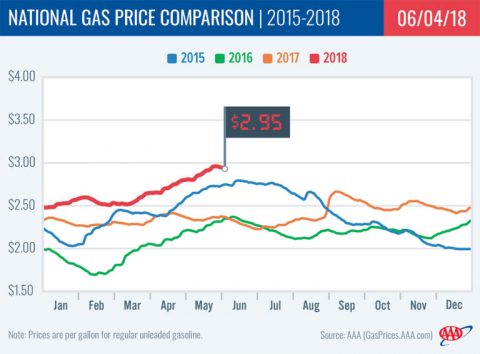 [Read more]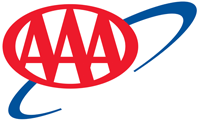 Tampa, FL – At $2.81, the national gas price average is 45 cents more expensive than a year ago. With the unofficial kick-off to summer just weeks away, prices are expected to increase, but a tapering trend may be emerging.
"If this past week's moderate increases are any indicator of what's to come, the fast rate at which gas prices were increasing may be slowing down," said Jeanette Casselano, AAA spokesperson. "On the week, the national average held steady and 19 state averages remained flat or saw decreases in gas prices. Despite this stability, drivers on the West Coast and in Idaho, Utah and Pennsylvania are paying $3.00/gallon."
[Read more]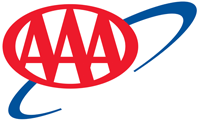 Tampa, FL – Consumer gasoline demand is at the highest level on record for March. According to the Energy Information Administration's (EIA) latest report, demand measured at 9.6 million b/d – levels typical of summer months, not the first quarter of a year.
U.S. exports continue to trend high, accounting for a large chunk of this week's demand data.
[Read more]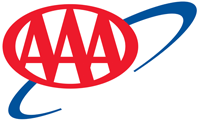 Tampa, FL – At $2.58, the national gas price average has decreased for the first time week-over-week this year. Today's price is 3 cent less than last week, 6 cents more than a month ago and 30 cents more than a year ago. Motorists can find gas for $2.50 or less at 53 percent of gas stations across the country.
"Gas price averages are less expensive for 78 percent of states compared to last Monday. Motorist filling up in the Midwest, South and East Coast are most likely to see the positive change at the pump," said Jeanette Casselano.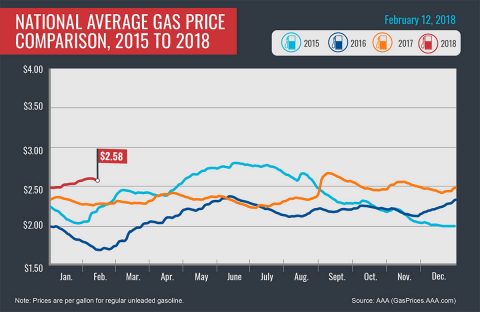 [Read more]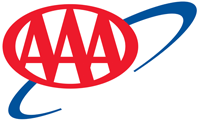 Tampa, FL – Heading into the final week of the year, the national average price for a gallon of gasoline is $2.44, an increase of two cents on the week.
As more drivers hit the road for the holidays, the increase in driving demand is likely the cause for increases in some states.
Despite the incremental jump, motorists in 33 states are paying less on the week – as much as nine cents.
Gas Prices but nearly 20 Cents More Expensive on the Year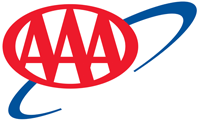 Tampa, FL – On the week, the national average dropped three cents to $2.43. Motorists in the Midwest are seeing the largest drops at the pump, by as much as 10 cents.
However, two states are paying more on the week: Indiana (+3 cents) and Hawaii (+1 cent). The national gas price average is 12 cents cheaper than one month ago, but that's not the case compared to this time last year.
"More than 97 million Americans will begin to hit the road this week for the holidays – the most ever on record," said Jeanette Casselano, AAA spokesperson.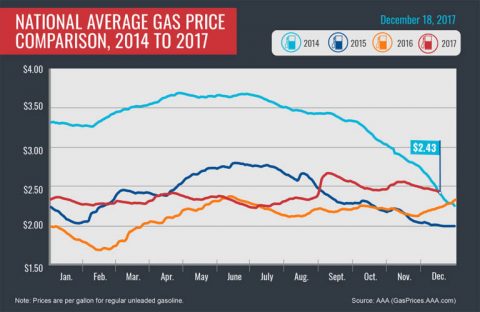 [Read more]

Nashville, TN – The Tennessee Wildlife Resources Agency is reminding hunters, who travel beyond the state border, that they must be mindful of import restrictions before they return home. The restrictions are in an effort to keep chronic wasting disease (CWD) out of Tennessee.
The TWRA is concerned about hunters who pursue big game out of state in the cervid family, which includes white-tailed deer, elk, and moose. Currently, 24 states and two Canadian provinces are CWD positive.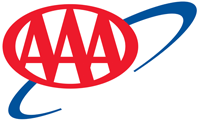 Tampa, FL – AAA projects 39.3 million Americans will travel more than 50 miles away from home this Memorial Day weekend.
Almost 35 million of those travelers will be hitting the road. That is the highest number in 12 years and it presents a distinct danger when combined with holiday related impaired driving.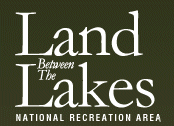 Land Between the Lakes, KY/TN – A public auction to reduce the size of bison herds in Land Between the Lakes National Recreation Area will be held on Saturday, January 28th.
The sale will begin at 9:00am CST at the Elk & Bison Prairie corral. Bidder registration, final sale list, and viewing begin at 8:00am. Bison purchases may be made with cash, credit card, or personal check at time of bid acceptance.
The Elk & Bison Prairie corral is located on the east side of Woodlands Trace National Scenic Byway, KY453, just north of US68/KY80.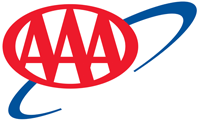 Tampa, FL – Retail averages have increased 28 of the past 30 days and prices have moved higher by fractions of a penny since Friday. The national average for regular unleaded gasoline currently sits at $2.29 per gallon, which is five cents more than one week ago, 16 cents more than one month ago and 29 cents more year-over-year.
Heading into 2017, gasoline demand is expected to drop drastically during the month of January following the busy holiday travel season.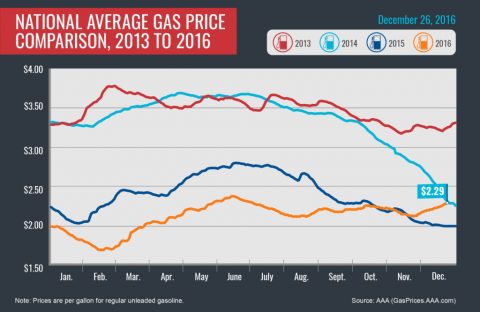 [Read more]