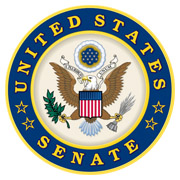 Washington, D.C. – The U.S. Senate may be out of session, but Senator Marsha Blackburn hasn't slowed down one bit! The Senator is spending August in Tennessee meeting with the people she serves and working to determine what she can do in the Senate to make each day better for her state.
Her state visits began in West Tennessee, where she met with fishermen and local officials at Sinclair's Fish Market in Paris to discuss the problems posed by Asian carp. Senator Blackburn then stopped by UT Martin to meet with Chancellor Keith Carver and members of their Army ROTC program.

Nashville, TN – Joanna Rush, of Chattanooga is the Best of Show winner in the 2011 Tennessee Federal Junior Duck Stamp art contest. She was recognized as this year's winner at an awards' ceremony held at Bass Pro Shops.
Joanna, who recently turned 15, is a sophomore home school student. She titled her winning artwork "Let's Get Together," depicting a male and female cinnamon teal in acrylic, colored pencil, and water color.
The 2009 Brian Brown Memorial 5K and 1 mile Fun Walk will be held Saturday, April 18 at 9 a.m. at the Elam Center at University of Tennessee at Martin. Proceeds benefit the Brian brown Memorial Greenway Project and the UT Martin SHAPE Club.
The course runs through the UTM campus.
Pre-registration received before April 11th is $12 (day of race, $15). Pre-registration ensures proper t-shirt size.  Prizes will be awarded in multiple age divisions.
Make checks payable to UTM Shape Club, 3006 Elam Center. Martin TN 38237. For more information, visit the website at www.utm.edu/departments.cebs/hhp/SHAPEClub.php.