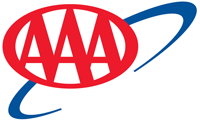 Tampa, FL – At $2.59, AAA says the national gas price average is poised to be potentially the cheapest Labor Day weekend average in three years. Today's average is already nearly a quarter cheaper than during last year's holiday ($2.83) and four cents cheaper than 2017's Labor Day ($2.63).
"For Americans who bookend summer with road trips, they will find gas prices this coming weekend that are cheaper than this past Memorial Day and last year's Labor Day holiday," said Jeanette Casselano, AAA spokesperson.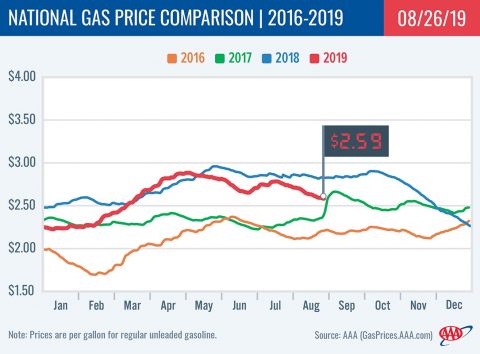 [Read more]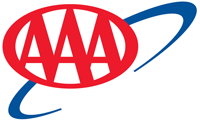 Washington, D.C. – AAA says when filling-up at the pump this fall, the majority of U.S. motorists will find savings of potentially more than 25-cents/gallon compared to this summer.
The national gas price average, which is already 15-cents cheaper than just five weeks ago, is poised to continue pushing less expensive due to several factors, including less expensive crude oil prices, the drop-off in gasoline demand after Labor Day and the move to winter-blend gasoline.
The Auto Club Group (AAA)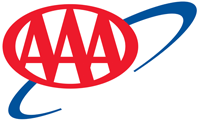 Tampa, FL – Motorists across the country continue to see their local pump prices dropping. On the week, state gas price averages declined as much as four cents while the national gas price average held steady at $2.84, which is two-cents cheaper than a month ago, but 48-cents more than a year ago.
"With Labor Day approaching, motorists could see a small swing towards higher gas prices, but any jump should not last past the holiday weekend," said Jeanette Casselano, AAA spokesperson.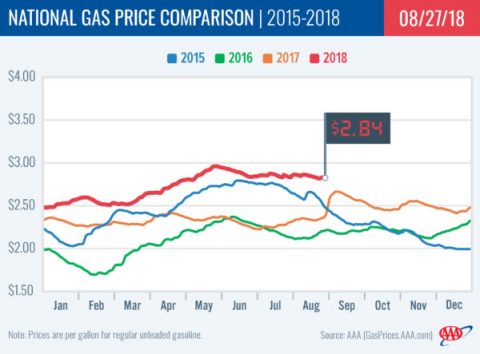 [Read more]
Tennessee Department of Transportation (TDOT)

Nashville, TN – The Tennessee Department of Transportation (TDOT) will halt all lane closure activity on interstates and state highways for the Labor Day holiday travel period.
Construction crews will stop all lane closure activity beginning at noon on Friday, August 31st, 2018 through 6:00am on Tuesday, September 4th.
AAA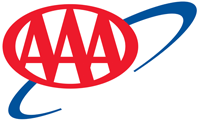 Washington, D.C. – Consumers are spending $69 more a month to fill-up compared to last summer. According to AAA, gasoline expenses are accounting, on average, for seven percent of an American's 2018 annual income, a one and half percent increase since summer of 2017.
With strong summer consumer gasoline demand expected in the months ahead, AAA says motorists can expect little relief at the pump with the national gas price average ranging between $2.85 – $3.05 through Labor Day.
AAA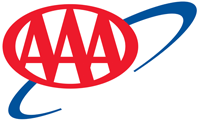 Washington, D.C. – More than 1,050 people were killed in crashes involving a teen driver in 2016 during the 100 Deadliest Days, the period between Memorial Day and Labor Day.
That is an average of 10 people per day – a 14 percent increase compared to the rest of the year, according to data analyzed by the AAA Foundation for Traffic Safety.
As school lets out for summer, AAA stresses the importance of preparing and educating inexperienced teen drivers for some of the most dangerous driving days of the year.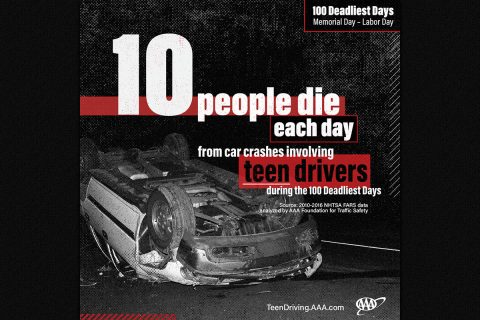 [Read more]

Nashville, TN – The Tennessee Wildlife Resources Agency reports there were four boating-related fatalities over the 2017 Labor Day holiday period from September 1st-4th.
The fatal incidents occurred on Cherokee Lake, Chickamauga Reservoir, and Kentucky Lake. TWRA is continuing investigation of the incidents.
TWRA boating officers made four boating under the influence (BUI) arrests.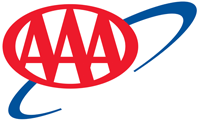 Tampa, FL – Gas prices spiked during the past week in response to Hurricane Harvey's impact on the fuel refining region in the Gulf Coast.
This left motorists with the most expensive Labor Day gas prices in three years. Just as operations in the Gulf Coast begin to recover, motorists are faced with the potential of another major storm.
Written by Park Ranger Tanner Rich
U.S. Army Corps of Engineers, Nashville District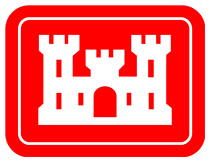 Nashville, TN – School is back in session, work has picked up, days are getting shorter, and there is just one holiday left before the unofficial end of summer. This Labor Day weekend families will get together to recreate and celebrate all the hard days they have worked.
When swimming or boating on U.S. Army Corps of Engineers lakes, the public is encouraged to have fun, but remember a few water safety tips to keep safe.
Swimming in designated areas is always best. Designated swimming areas on the Corps of Engineers property are well marked by floating orange lines and protected by "Boat Keep Out" buoys.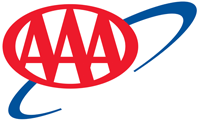 Tampa Bay, FL – At $2.45, today's national gas price average is the highest recorded price for a gallon of unleaded gasoline so far this year.
The near-term combinations of numerous refinery and pipeline shut downs, tightened access to supply levels in the Gulf and anticipated high gasoline demand surrounding Labor Day weekend, means motorists may not have seen the full impact of Harvey at the pump.