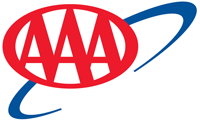 Tampa, FL – AAA reports that the average national gas price dropped by two cents to $2.71 on the week. This is less expensive than a week, a month (-4 cent) and a year (-15 cents) ago. Prices are cheaper as demand saw a small dip on the week, even though overall demand remains robust for the summer.
"While gas prices continue to drop, the rate at which they are decreasing has slowed," said Jeanette Casselano, AAA spokesperson.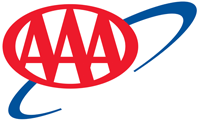 Tampa, FL – The national gas price average is $2.79, which is an eight-cent increase since the beginning of July. Gas prices have increased amid more expensive crude oil prices, robust demand and decreasing gasoline stocks.
Since last Monday, 18 states have seen their gas price averages increase by at least a nickel. Hurricane Barry, which made landfall in Louisiana this past weekend, seems to have had little impact on the national average.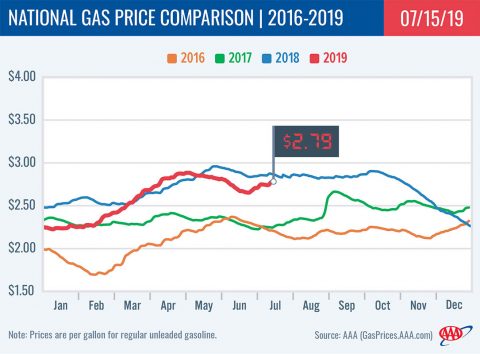 [Read more]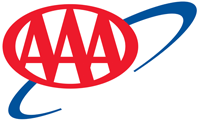 Tampa, FL – As summer temperatures rise, so are gas prices according to AAA. State averages have jumped, pushing up the national average nearly a dime to $2.75 in the last 15 days.
In addition to rising gasoline demand, 13 states this month have introduced new gas taxes that have contributed to the national average increase. Those states include California, Connecticut, Illinois, Indiana, Maryland, Michigan, Montana, Nebraska, Ohio, Rhode Island, South Carolina, Tennessee, and Vermont.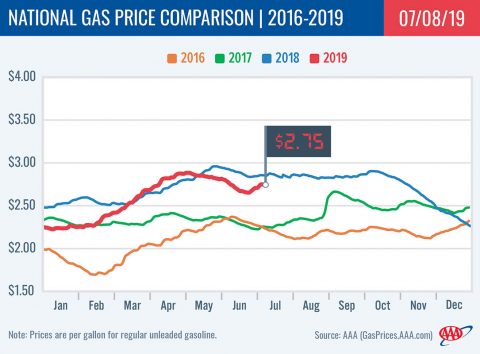 [Read more]
T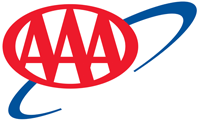 ampa, FL – AAA says the vast majority of the 37.6 million Americans who hit the road this past Memorial Day weekend found savings at the pump compared to last year's holiday. Today, 42 states and Washington, D.C. have gas price averages that are less expensive year-over-year, with Floridians (-31 cents) seeing the largest yearly change. Motorists in West Coast states are the exception, paying nearly double-digits more than last May to fill up.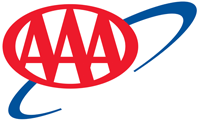 Tampa, FL – According to AAA, Gas prices are nearly six cents cheaper in some states across the country on the week, which has pushed the national gas price average cheaper by a penny to $2.85 today.
That average could have been even lower had a handful of Midwest states not seen prices increase by more than a nickel due to ongoing refinery maintenance.
AAA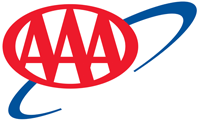 Tampa, FL – With only a penny increase on the week, the national gas price average saw the smallest one-week jump since mid-February. For the last eight weeks, weekly jumps ranged anywhere between a nickel and a nearly a quarter.
"On the week, 30 states saw pump price increases or decreases of three cents or less which helped keep the national average relatively steady, but motorists shouldn't get their hopes up just yet," said Jeanette Casselano, AAA spokesperson.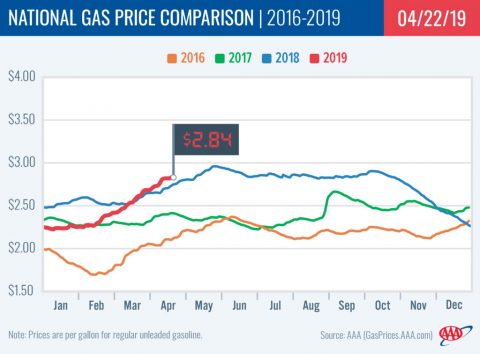 [Read more]
Journal of the American Heart Association Report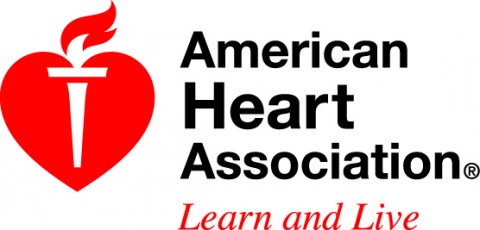 Dallas, TX – Rising temperatures stemming from global climate change may increase the number of infants born with congenital heart defects (CHD) in the United States over the next two decades and may result in as many as 7,000 additional cases over an 11 year-period in eight representative states (Arkansas, Texas, California, Iowa, North Caroline, Georgia, New York and Utah), according to new research in the Journal of the American Heart Association, the Open Access Journal of the American Heart Association/American Stroke Association.
AAA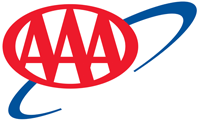 Tampa, FL – Many motorists filling up across the country are noticing gas prices that are increasing slightly. While nearly 25 states' averages increased on the week, the national average is only a penny more than a week ago at $2.26.
The fluctuating national and state gas price averages come alongside an increase in gasoline demand and reflect the higher crude oil prices as of late, but it's likely not to be a long-term trend.
Tennessee Valley Authority (TVA)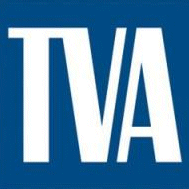 Knoxville, TN – As 2018 draws to a close, yearly rainfall totals for the Tennessee Valley Authority (TVA) region continue to climb to near record levels, and the trend for above average rainfall totals continues right up to year's end.
"For the week before Christmas, rainfall averaged 2 inches in the eastern Valley and 1.4 inches in the western Valley," said James Everett, senior manager for TVA's River Forecast Center. "We began spilling and sluicing at several locations the day after Christmas to increase flows and increase flood storage capacity, and that will likely continue into the New Year."
AAA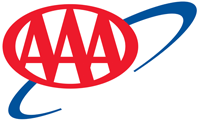 Knoxville, TN – With more than 102 million people expected to travel by automobile this holiday season – the most on record since AAA began tracking holiday travel in 2001 – AAA is reminding motorists to celebrate safely and take steps ahead of time to avoid getting behind the wheel impaired.
According to the National Highway Traffic Safety Administration (NHTSA), the season between Thanksgiving and New Year's Day is one of the deadliest times on the road when it comes to impaired driving.