Devotional from Brother Shepherd for December 4th
Written by Brother Shepherd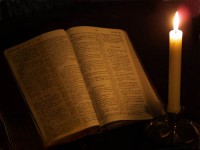 In the summer of 1986, I was invited to an Evangelistic Conference in Amsterdam, Holland sponsored by the Billy Graham Association. There was about 8,000 Evangelists from all over the world there. One of the things that stood out to me was the importance that was put on THE WORD OF GOD.
One of the affirmations we were asked to affirm was this, "We confess Jesus Christ as God, our Lord and Savior, who is revealed in the Bible, which is the infallible word of God."
The other day someone called me and said they wanted some advice and when they asked that question I was reminded of 2nd Timothy 3:16 & 17 which reads in the LBT, "16 The whole Bible was given to us by inspiration from God and is useful to teach us what is true and to make us realize what is wrong in our lives; it straightens us out and helps us do what is right. 17 It is God's way of making us well prepared at every point, fully equipped to do good to everyone." God speaks to us in many different ways, but I believe His main communication with you and I is His holy word.
The best advice that I can give you today is to get advice today through taking out your Bible, reading it, studying it, and believing it.
This is Bro. Shep asking you to think about it.
Matthew 28:18-20