Daily Devotional from Brother Shepherd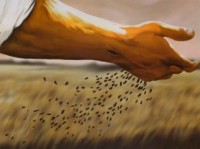 The other morning I was reading in the book of Lamentations 1:1-3. This brought to mind an old saying that I've heard all of my life, "What goes around comes around."
The Bible tells us that we reap what we sow. I was reading theses verses from the Living Bible this morning, "Jerusalem's streets, once thronged with people, are silent now. Like a widow broken with grief, she sits alone in her mourning. She, once queen of nations, is now a slave.
2 She sobs through the night; tears run down her cheeks. Among all her lovers, there is none to help her. All her friends are now her enemies. 3 Why is Judah led away, a slave? Because of all the wrong she did to others, making them her slaves. Now she sits in exile far away. There is no rest, for those she persecuted have turned and conquered her. TLB This tells us of Jerusalem's mourning and broken heartedness over the conditions of the city.
Verse 3 says, "why is Judah led away, a slave" and then it goes on to tell us, "because of all the wrong she did to others. Now she sits in exile far away." I was thinking about how she mistreated other people and now what goes around comes around. Jerusalem was receiving bad things because she had done bad things and I believe this is true, but I also believe that it's true that if we do good things we receive good things.
This is not talking about material things, but it can include them too. I have found that a happy person usually gives out happiness and a cruel person gives out cruelty which teaches me that if I do good, good things will be done for me and if I do bad things, I will receive bad things.
Luke 6:38 in the KJV says, "Give, and it shall be given unto you; good measure, pressed down, and shaken together, and running over, shall men give into your bosom. For with the same measure that ye mete withal it shall be measured to you again."
This is Brother Shepherd asking you to think about this.
Matthew 28:18-20
"If you are going, you are growing"