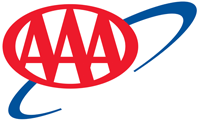 Tampa Bay, FL – The average price at the pump has fallen for 15 of the last 20 days, for a total savings of seven cents per gallon.
The national average currently sits at $2.46 per gallon, which is one cent less than one week ago, 12 cents less than one month ago and 24 cents more year-over-year. The national average is down 17 cents per gallon versus the 2017 peak price reached in September ($2.67).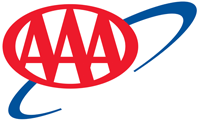 Washington, D.C. – As it bears down on the Gulf of Mexico, Hurricane Harvey has high potential to negatively affect five southern Texas coast refineries and condensate splitter as well as crude and gasoline inventory levels in the region and beyond. The National Weather Service's (NWS) National Hurricane Center (NHC) expects Harvey to approach the southern Texas coast on Friday.
Additionally, the Government of Mexico has issued a tropical storm watch for the area south of the mouth of the Rio Grande to Boca de Catan.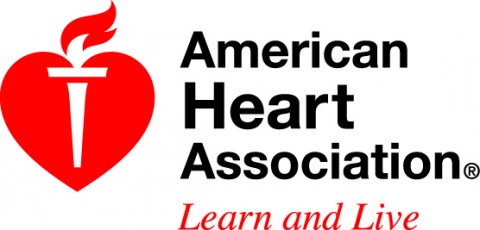 Washington, D.C. – Six leading public health organizations today asked federal courts to allow them to intervene in two lawsuits brought by the electronic cigarette and cigar industries against the Food and Drug Administration's 2016 rule establishing public health oversight of e-cigarettes, cigars and other previously unregulated tobacco products.
The groups expressed concern that the Trump Administration may not adequately defend the rule (known as the "deeming rule") or may seek to weaken or rescind it, putting the health of children and the public at risk.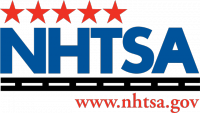 Washington, D.C. – National Highway Traffic Safety Administration reports that the Ford Motor Company (Ford) is recalling all 2015-2017 Transit vehicles except 156″ and 178″ wheelbase Chassis Cab and Cut-Away bodies.
In the affected vehicles, the flexible coupling connecting the transmission to the driveshaft may prematurely fail.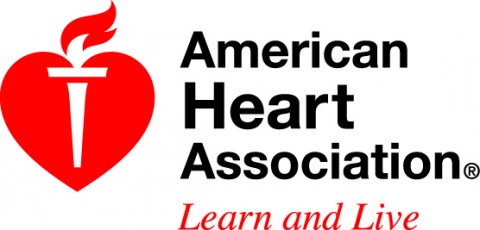 Washington, D.C. – American Heart Association CEO Nancy Brown issued the following comments today on a new study released by the Centers for Disease Control and Prevention on "Tobacco Use in Top-Grossing Movies — United States, 2010–2016:"
"Based on previous trends, we thought tobacco use in film would soon play its final scene. This latest CDC study indicates a troublesome plot twist.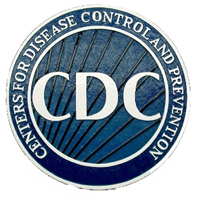 Washington, D.C. – The amount of opioids prescribed in the United States peaked in 2010 and then decreased each year through 2015, but remains at high levels and varies from county to county in the U.S., according to the latest Vital Signs report by the Centers for Disease Control and Prevention (CDC).
In 2015 six times more opioids per resident were dispensed in the highest-prescribing counties than in the lowest-prescribing counties. This wide variation suggests inconsistent prescribing practices among healthcare providers and that patients receive different care depending on where they live.
[Read more]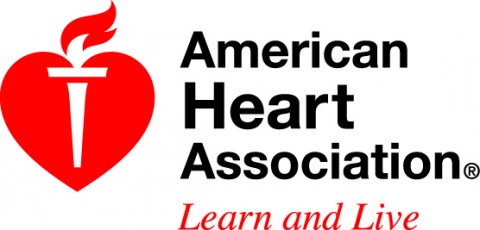 Washington, D.C. – American Heart Association CEO Nancy Brown and co-author of the study "Knowledge, Attitudes, and Beliefs Regarding Cardiovascular Disease in Women" published today in the Journal of the American College of Cardiology, issued the following comments:
"Cardiovascular diseases cause 1 in 3 deaths among women each year – more than all cancers combined. That's why the American Heart Association first brought this critical issue to light through the creation of the Go Red For Women™ movement in 2004."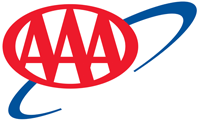 Tampa, FL – Gas prices have dropped slowly on the week. Today's national average price for a gallon of regular unleaded gasoline is $2.39, a three cents drop from one week ago; however, it is an increase of nine cents over last month and 18 cents more than this time last year. One year ago, the country was experiencing higher consumer demand and prices were increasing.
Fast forward to today, consumers are still experiencing higher gas prices over last year due to the OPEC agreement, but we are not seeing substantial increases at the pump due to increased gasoline inventories and low demand across the country.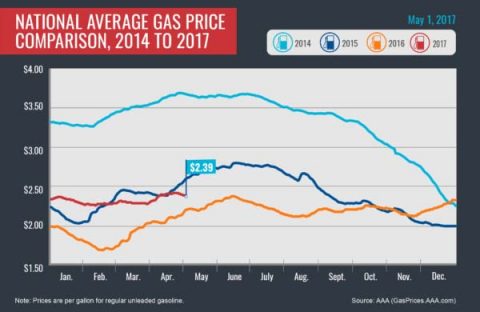 [Read more]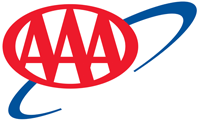 Tampa, FL – After remaining relatively flat, the national average price for regular unleaded gasoline has now fallen for 10 straight days to today's average of $2.30 per gallon.
Today's national average is one cent less than one week ago and two cents more than one month ago. Compared to this same date last year, consumers are paying 37 cents more per gallon at the pump.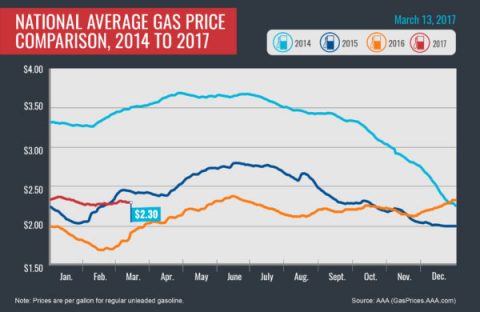 [Read more]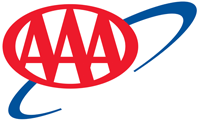 Tampa, FL – Oil prices slipped fractions of a penny over the weekend, reaching today's national average price for regular unleaded gasoline of $2.31 per gallon. Today's price is still two cents more than one week ago, four cents more compared to one month ago and 50 cents more per gallon year-over-year.
Retail prices continue to fluctuate but have remained between $2.28-2.32 for more than a month as reports of increased U.S. production continues to counter OPEC rebalancing efforts.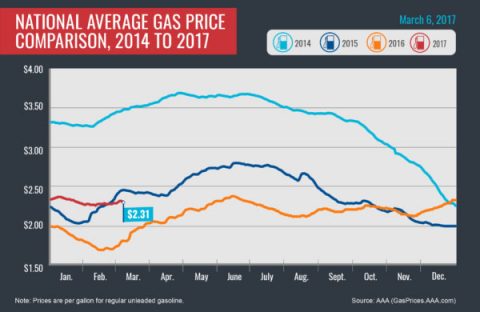 [Read more]