AAA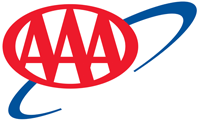 Tampa, FL – At $2.89, the national gas price average is two-cents cheaper than it was a week ago amid consumer gasoline demand declining for a third week. Today's gas price average is four-cents more than a month ago and 42-cents more expensive than a year ago.
The majority of states have seen gas prices decrease on the week with the exception of a handful of states, some of which were impacted by fuel disruptions on the west coast and in the southeast.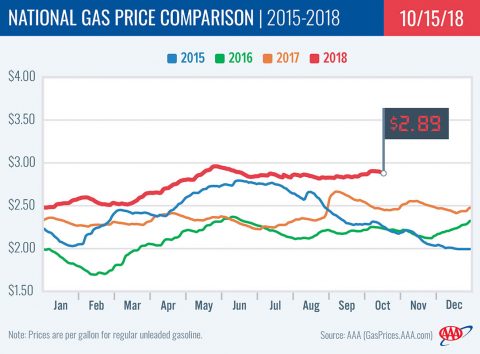 [Read more]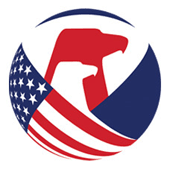 Washington, D.C. – U.S. Consumer Product Safety Commission (CPSC) reports that Walmart is recalling Ozard Trail Camp Axes because the axe head can detach from the handle, posing an injury hazard.
This recall involves Ozark Trail camp axes. The steel shaft tubular axes measure about 14 inches long from handle to axe head, and weigh about 1.25 lbs. The axes have a black, non-slip rubber grip and claw feature. "Ozark Trail" and model number 60111140 are printed on the product packaging.
AAA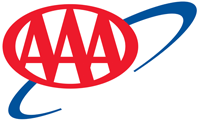 Washington, D.C. – More and more, drivers are recognizing the value in having vehicles with advanced driver assistance systems (ADAS) like blind spot monitoring systems, forward collision warning and lane keeping assist.
However, while many of these technologies are rapidly being offered as standard, many drivers are unaware of the safety limitations of ADAS in their vehicles, according to new research from the AAA Foundation for Traffic Safety.
AAA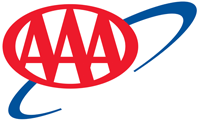 Washington, D.C. – AAA forecasts that the national gas price average will drop to $2.70 this fall and has the potential to drop even more. That is 14-cents less a gallon compared to today's price and more than a quarter cheaper than this year's recorded high of $2.97 set in May.
"Cheaper-to-produce gasoline and relatively stable crude oil prices in August, combined with an anticipated drop in consumer gasoline demand post-Labor Day, means consumers will see savings when they fill-up at the pump this fall," said Jeanette Casselano, AAA spokesperson.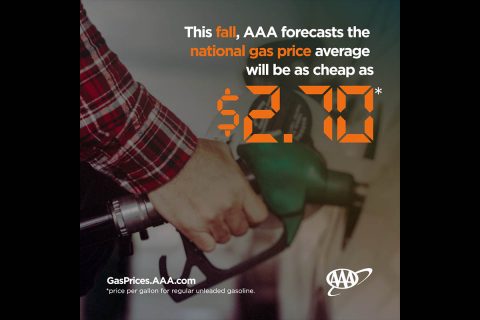 The Auto Club Group (AAA)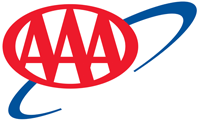 Tampa, FL – As summer slows to an end, gas prices across the country are getting less expensive. Today's national gas price average is $2.84, which is three cents less than at the beginning of the month.
With the exception of a handful of states, the majority of motorists are seeing slow, but steady pump price drops during the last few weeks.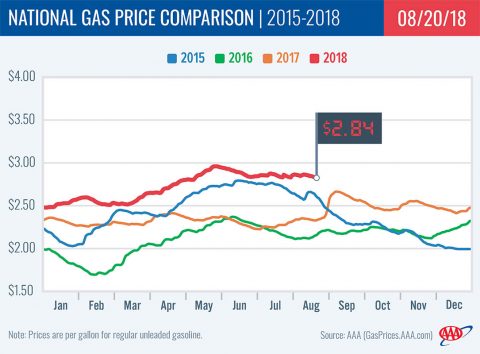 [Read more]
AAA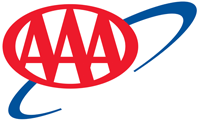 Tampa, FL – The national gas price average has held relatively flat for the last two weeks. Today's national average is $2.86. The Energy Information Administration's (EIA) latest reports detail a drop in consumer gasoline demand and a build in gasoline inventories.
In fact, this was the first increase in inventories in six-weeks with a substantial addition of 3 million bbl.
AAA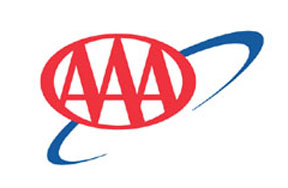 Tampa, FL – At 9.88 million b/d, gasoline demand last week was near an all-time record high according to the Energy Information Administration (EIA). More so, the latest EIA data shows gasoline inventories tightening from 240 million bbl at the end of June down to 231 million bbl at the end of July.
The boost in demand and drop in inventory have driven the national gas price average to $2.87, which is the most expensive gas price seen in August since 2014.
AAA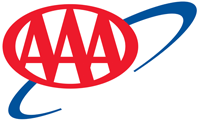 Tampa, FL – As U.S. gasoline demand strengthened and supply declined, the national gas price average jumped two-cents on the week to land at $2.86.
According to the latest Energy Information Administration (EIA) report, total crude inventories fell on the week and now register at 405 million bbl, which is 80 million bbl lower than levels at the same time last year.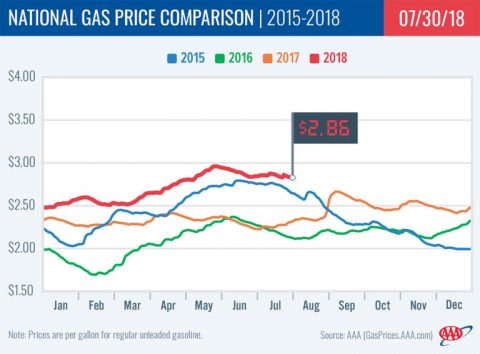 [Read more]
AAA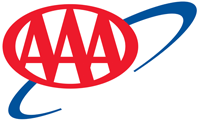 Tampa, FL – Volatility is the trend for July gas prices as the rate for crude oil rises and drops amid lingering geopolitical concerns. In the U.S., the first half of the month saw pump prices increase from $2.85 to $2.89, while the second half is proving cheaper with the national gas price average down to $2.84 today.
The national average has not been this low since early May.
[Read more]
AAA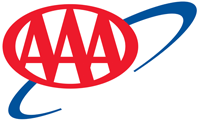 Orlando, FL – A record-breaking 46.9 million Americans will travel 50 miles or more away from home this Independence Day holiday, an increase of more than 5 percent compared with last year and the highest number since AAA started tracking 18 years ago.
For the 39.7 million Americans planning a Fourth of July road trip, INRIX, a global transportation analytics company, predicts travel times in the most congested cities in the U.S. could be twice as long than the normal trip, with Tuesday being the busiest day.