The Auto Club Group (AAA)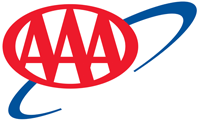 Tampa, FL – Motorists across the country continue to see their local pump prices dropping. On the week, state gas price averages declined as much as four cents while the national gas price average held steady at $2.84, which is two-cents cheaper than a month ago, but 48-cents more than a year ago.
"With Labor Day approaching, motorists could see a small swing towards higher gas prices, but any jump should not last past the holiday weekend," said Jeanette Casselano, AAA spokesperson.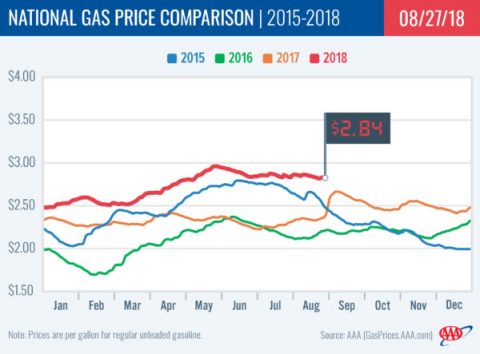 [Read more]
AAA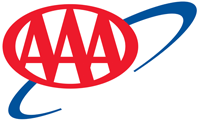 Tampa, FL – As U.S. gasoline demand strengthened and supply declined, the national gas price average jumped two-cents on the week to land at $2.86.
According to the latest Energy Information Administration (EIA) report, total crude inventories fell on the week and now register at 405 million bbl, which is 80 million bbl lower than levels at the same time last year.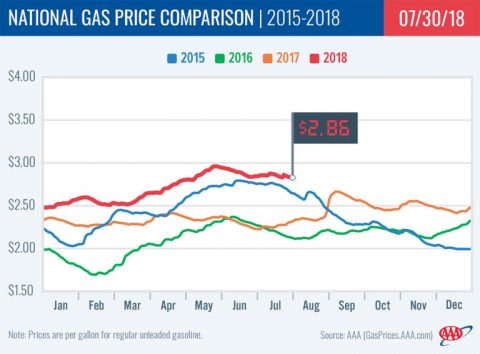 [Read more]
AAA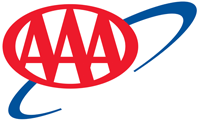 Tampa, FL – The national gas price average is $2.87, which is a penny more expensive on the week. Pump prices in nearly 30 states are seeing a jump of as much as eight cents, a dozen states saw prices drop and another dozen states' gas price averages remain stable from last Monday.
"Demand for gasoline this summer remains very strong week-over-week, driving gas prices higher alongside rising crude prices," said Jeanette Casselano, AAA spokesperson.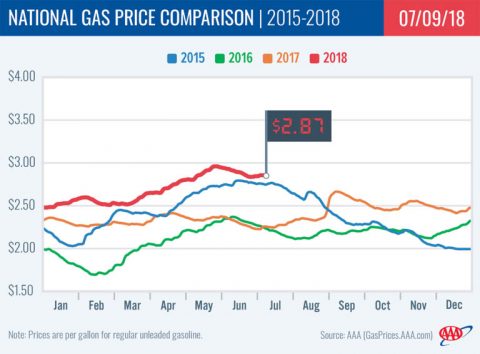 [Read more]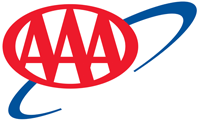 Tampa, FL – The national gas price average has been steadily decreasing for nearly two weeks dropping from the year-to-date high of $2.61 (on February 5th) to today's national average of $2.53.
Motorists in nearly every state are paying less on the week with Midwest and Southern states seeing the largest price drops at the pump. Hawaii (+2 cents) and Indiana (+1 cent) were the only states to see increases.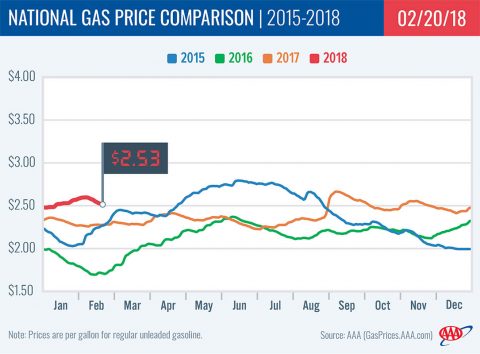 [Read more]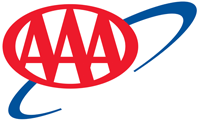 Tampa, FL – At $2.49, the national gas price average is the most expensive seen at the start of a new year since 2014, when gas prices were more than $3.00/gallon. High travel volumes over the holidays drove gas prices up five cents on the week.
At the start of 2018, motorists in the Northeast, South and the upper Midwest are seeing pump prices as much as 13 cents more expensive than last one week ago.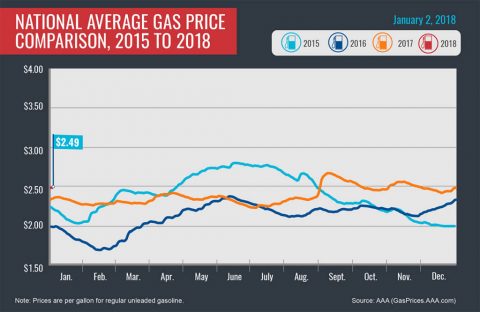 [Read more]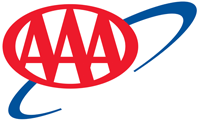 Tampa, FL – Gas prices have dropped slowly on the week. Today's national average price for a gallon of regular unleaded gasoline is $2.39, a three cents drop from one week ago; however, it is an increase of nine cents over last month and 18 cents more than this time last year. One year ago, the country was experiencing higher consumer demand and prices were increasing.
Fast forward to today, consumers are still experiencing higher gas prices over last year due to the OPEC agreement, but we are not seeing substantial increases at the pump due to increased gasoline inventories and low demand across the country.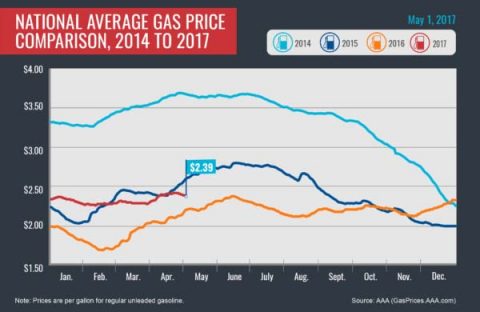 [Read more]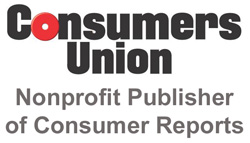 Washington, D.C. – Consumers Union, the policy and advocacy division of Consumer Reports, today praised Campbell Soup's decision to label its products made with genetically engineered ingredients nationwide, not just in Vermont where a mandatory labeling law will go into effect in July.
The company, the first major food company to agree to label products with these ingredients, often referred to as GMOs, also announced its support for a national, mandatory and uniform labeling system for foods containing GMOs. [Read more]
Survey Finds 64 Percent of People Think "Natural" Means No GMOs; Virtually All Samples of Tested Products with Only "Natural" Label Contained Substantial Levels of GMOs
Organization Calls for Mandatory Labeling of GMOs in Food, and a Ban on the "Natural" Label

Yonkers, NY – Consumer Reports tested a wide variety of packaged-food items containing corn or soy – and found that genetically modified organisms, or GMOs, are present in many common products including breakfast cereals, chips, and infant formula. Some carry labels like "natural," suggesting that they don't have these controversial ingredients.
A recent survey of 1,000 American adults conducted by the Consumer Reports National Research Center showed that a majority of people – 64 percent – mistakenly equate "natural" with no GMOs. [Read more]