Tennessee Department of Health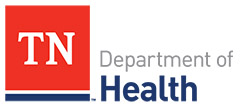 Nashville, TN – Smoking will be prohibited in public housing units across Tennessee and the U.S. effective July 31st, 2018.
The smoke-free rule is part of a larger plan to decrease building maintenance and smoke-related damage costs, reduce the risk of accidental fires and create healthier environments by reducing exposure to secondhand smoke.
The Tennessee Department of Health reminds Tennesseans who smoke that free help to quit smoking is available through the Tennessee Tobacco QuitLine.
Clarksville-Montgomery County has Third Lowest Gas Prices in Tennessee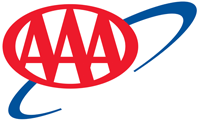 Nashville, TN – As the national average continues to push toward $3.00 a gallon, gas prices in the southeastern United States are among the lowest in the country. Sunday's national average of $2.92 is 5 cents more than a week ago and 57 cents more than this time last year.
As of Sunday, gas prices averaged above $3.00/gal in 14 states. The majority of them are in the northeast and western United States. Rising crude costs, switchover to more-expensive-to-produce gasoline by the federal deadline on June 1st, tighter supplies and robust gasoline demand continue to help lift pump prices across the nation.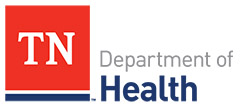 Nashville, TN – The Tennessee Department of Health urges parents and other caregivers to make sure all children are vaccinated against measles.
While measles was declared eradicated in the U.S. in 2000 thanks to widespread vaccination, outbreaks have occurred in recent years in pockets of unvaccinated people in communities across the country.
Journal of the American Heart Association Report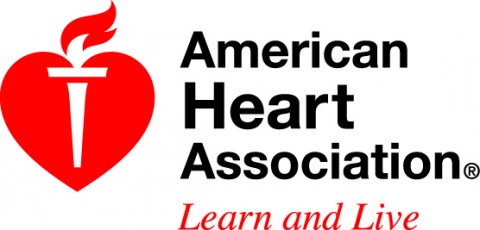 Dallas, TX – National Institutes of Health (NIH) funding to conduct cardiac arrest research has dwindled in the last decade and is a fraction of what the government spends to study other leading causes of death, according to new research in Journal of the American Heart Association, the Open Access Journal of the American Heart Association/American Stroke Association.
Study authors cite Institute of Medicine statistics that suggest cardiac arrest is the third leading cause of death in the United States, claiming more than 450,000 lives each year.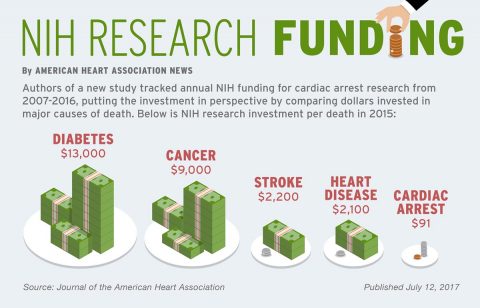 [Read more]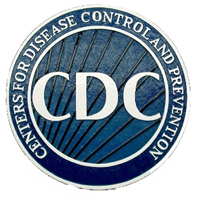 Washington, D.C. – The amount of opioids prescribed in the United States peaked in 2010 and then decreased each year through 2015, but remains at high levels and varies from county to county in the U.S., according to the latest Vital Signs report by the Centers for Disease Control and Prevention (CDC).
In 2015 six times more opioids per resident were dispensed in the highest-prescribing counties than in the lowest-prescribing counties. This wide variation suggests inconsistent prescribing practices among healthcare providers and that patients receive different care depending on where they live.
[Read more]

Murfreesboro, TN – The number of homeowners insurance claims from lightning strikes and electrical surges in the United States rose in 2016, compared with 2015; however, the average cost that insurers paid on those claims fell, according to a new analysis by the Insurance Information Institute(I.I.I.).
Clarksville in Top Three for Most Expensive Gas in Tennessee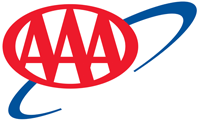 Tampa, FL – Tennessee gas prices are falling after oil prices suffered big losses during the week. The state average declined for the 13th consecutive day on Sunday, for a total discount of 3 cents since May 29th.
The average price for a gallon of gasoline in Tennessee was $2.09 on Sunday, according to AAA, whose data is collected from credit card swipes and direct feeds from 120,000 gas stations nationwide, in cooperation with OPIS and Wright Express. The state average is 2 cents less than a week ago and 10 cents less than this time last year.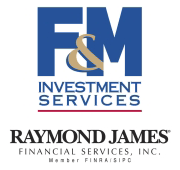 Clarksville, TN – The May Employment Report was generally disappointing. Nonfarm payrolls rose by 138,000 (median forecast: +185,000), while figures for March and April were revised a net 66,000 lower.
Retail payrolls fell for the fourth consecutive month (down more than 80,000 since January, which is more than the total number of coal miners). The unemployment rate dipped to 4.3%, a 16-year low, partly reflecting a sharp drop in the rate for young adults (which could reflect a seasonal adjustment issue, although the trend is clearly lower).
April 2017 Data Tells Story of Continued Improvement in Tennessee's Workforce

Nashville, TN – Tennessee's county unemployment rates for April 2017 have decreased in all 95 counties, according to data released today by the Tennessee Department of Labor and Workforce Development (TDLWD).
Montgomery County's unemployment rate in April dropped to 4.1 percent from March's 5.0 percent.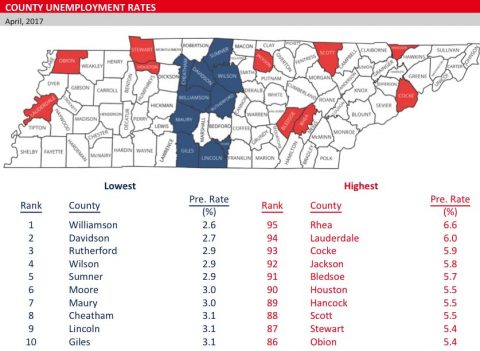 [Read more]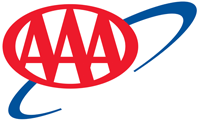 Knoxville, TN – Motorists will not have to worry about surging gas prices this holiday weekend after all. Thursday's OPEC meeting had the potential to cause a stir in the stock market. What actually happened was quite the opposite.
A collection of OPEC and non-OPEC oil producing countries met on Thursday to re-evaluate their existing agreement that calls for a reduction of 1.8 million barrels of crude output per day. This agreement – implemented in November – was an attempt to reduce global crude oversupply and drive up oil prices to $60.00 per barrel.