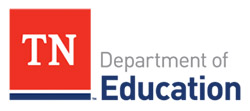 Nashville, TN – Tennessee Governor Bill Haslam and Education Commissioner Candice McQueen announced today that the 2016-17 graduation rate of 89.1 percent is the highest on record for Tennessee.
The statewide graduation rate is up more than half a percentage point since last year, and overall it has increased 3.6 percent since the 2010-11 school year. This year, graduation rates increased in nearly 56 percent of districts with high schools.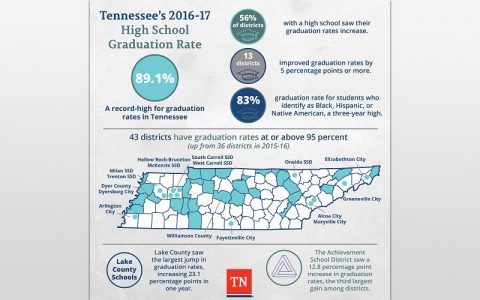 [Read more]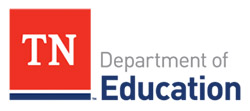 Nashville, TN – Tennessee Department of Education Commissioner Candice McQueen has announced that Tennessee high school students improved across all subject areas – English, math, science, and U.S. history – on the 2016-17 TNReady end-of-course exams.
Thousands of additional students are meeting course expectations compared to last year, and the state reduced the percentage of students scoring at the lowest achievement level across all subject areas.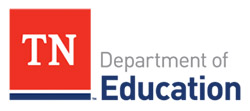 Nashville, TN – Today, Tennessee Commissioner of Education Candice McQueen released an update on the department's strategic plan, Tennessee Succeeds, providing a snapshot of some of the department's key work from the past year, progress toward our goals, vision for the work ahead, and picture of the state of education in Tennessee.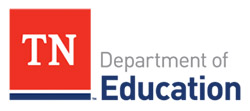 Nashville, TN – Tennessee Department of Education Commissioner Candice McQueen announced today that the state is expanding its ACT Senior Retake Day to all Tennessee public high school students in the class of 2018, totaling nearly 70,000 students.
In addition, the department is making it easier for public school seniors to retake the ACT this fall by offering this second opportunity during the school day in students' own schools.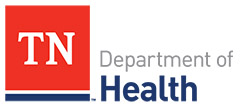 Nashville, TN – To prevent the spread of diseases and to keep our kids of all ages and their classmates safe, healthy and in school learning, all students in Tennessee, from kindergarten to college, must have proof of immunizations before they can start school.
State leaders of health and education say it's best to get those important vaccines now to avoid longer wait times later and to ensure a smooth beginning to the 2017 school year.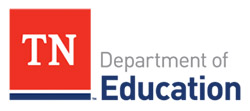 Nashville, TN – The Tennessee Department of Education has released the Dyslexia Resource Guide, which offers assistance to schools for identifying and supporting for students showing characteristics of dyslexia.
This guide provides districts with information related to screening procedures for dyslexia, specific interventions, professional learning resources, and reporting requirements.
Preliminary State Allotment for Henry County is $284,811.00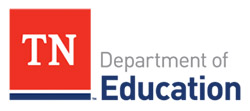 Nashville, TN – Tennessee Education Commissioner Candice McQueen announced today that 18,340 students in 917 classrooms across the state will benefit from the Voluntary Pre-K (VPK) program in the 2017-18 school year.
Nearly 95 percent of districts in Tennessee will receive VPK funding designed to serve 4-year-olds who are at-risk. A list of preliminary funding amounts by district and the number of classrooms that funding supports is located on the department's website.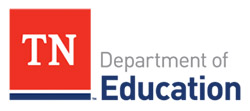 Nashville, TN – Tennessee officials launched a renewed effort Thursday to focus on students' readiness for life after high school.
At an event at Cane Ridge High School in Antioch that brought together state leaders, industry partners, educators, and students, the Tennessee Department of Education released the Seamless Pathways: Bridging Tennessee's Gap Between High School and Postsecondary report, which provides recommendations to ensure Tennessee continues to move toward achieving its statewide goals for postsecondary completion set forth by Tennessee Governor Bill Haslam through the Drive to 55 initiative.

Nashville, TN – The Tennessee Department of Education released a new report today that explores the use and expansion of student growth portfolio models, which are an alternative form of educator evaluation that measures student growth. The report summarizes findings from analyses of the scores, the impact of portfolios on teacher practice, and its influence on teachers' perceptions of evaluation.
Generally, the report finds that portfolio scores are well-aligned to other evaluation scores and suggests that portfolios strengthen the department's work to create a more accurate, personalized evaluation system for all teachers.
Encourages Students to Submit FAFSA by January 17th to Meet Tennessee Promise Deadline

Nashville, TN – Tennessee Governor Bill Haslam has proclaimed Thursday, January 12th, as the first "TN FAFSA Frenzy Day," encouraging high school seniors and current college students to submit the Free Application for Federal Student Aid (FAFSA) by January 17th to maintain eligibility for key scholarship programs including Tennessee Promise.
Tennessee Promise is the state's groundbreaking scholarship and mentoring program that provides high school graduates two years of community or technical college free of tuition and fees.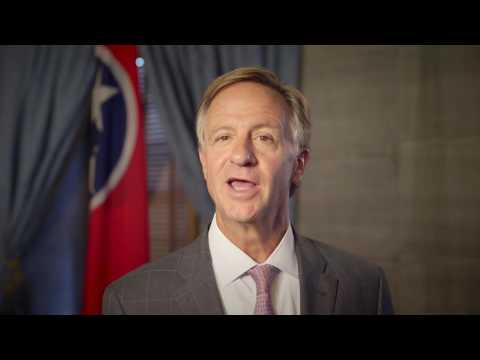 [Read more]