Clarksville-Montgomery County has Third Cheapest Gas Prices in Tennessee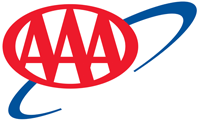 Nashville, TN – Look for a bounce back week for gas prices, which have declined for the past two weeks. Prices at the pump should increase this week, as a high stakes OPEC meeting draws near.
Tennessee gas prices averaged $2.29 on Sunday. The state average is 2.5 cents less than last week, yet remains 35 cents higher than this time last year.
Tennessee Will Issue a Record-Breaking Number of Work Opportunity Tax Credits in 2017

Nashville, TN – The Tennessee Department of Labor and Workforce Development (TDLWD) continues to issue a record number Work Opportunity Tax Credits (WOTC) to business owners across the state.
A streamlined, modernized application process makes it easier for employers to take advantage of this beneficial tax credit.
[Read more]

Nashville, TN – The Tennessee Wildlife Resources Agency has announced its 2017-18 winter trout stocking schedule. TWRA plans to release approximately 90,000 rainbow trout into Tennessee waters from December through March.
The program provides numerous close to home trout fishing opportunities for anglers during the winter months. These fisheries also provide a great opportunity to introduce children or first-time anglers to fishing.
State Continues to Experience Record Low Unemployment

Nashville, TN – Nearly all Tennessee counties continued to have unemployment rates below 5.0 percent in October 2017, following a record-breaking September when, for the first time ever, each of the state's 95 counties experienced a rate below 5.0 percent.
October marked the fifth consecutive month Tennessee's statewide unemployment rate was in record territory, matching the all-time low of 3.0 percent set the month before.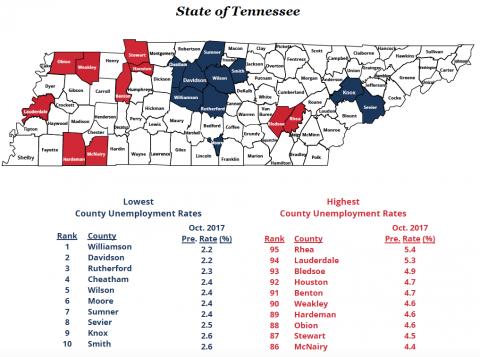 [Read more]
Clarksville-Montgomery County continues to have Third Cheapest Gas Prices in Tennessee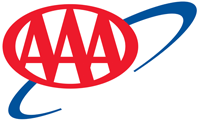 Nashville, TN – The 45.5 million Americans who hit the road this Thanksgiving will find the most expensive gas prices for the holiday in three years. The average price for regular unleaded gasoline in Tennessee is $2.54 – 40 cents more than Thanksgiving Day 2016. That amounts to an increase of $6.00 to fill an average size gas tank.
After shooting-up two weeks ago, motorists will be thankful to hear that prices at the pump are beginning to sink lower.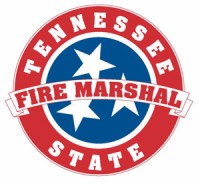 Nashville, TN – As families prepare to gather for Thanksgiving Day feasts this Thursday, November 23rd, 2017 the State Fire Marshal's Office (SFMO) reminds Tennesseans to incorporate good cooking safety habits into their plans in order to avoid a holiday home fire.
Thanksgiving is the leading day of the year for home fires involving cooking equipment, with three times the average number. An estimated 2,000 Thanksgiving Day fires in residential buildings are reported to U.S. fire departments each year according to the U.S. Fire Administration. Here in the Volunteer State, 18 percent of reported home structure fires in 2016 involved cooking equipment.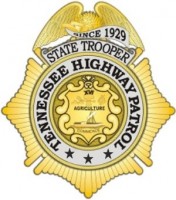 Nashville, TN – Today, Commissioner David W. Purkey of the Tennessee Department of Safety and Homeland Security (TDSOHS) and Tennessee Highway Patrol (THP) Colonel Tracy Trott joined multiple law enforcement partners to announce the fifth annual "I-40 Challenge Drive to Zero Fatalities" traffic safety initiative.
The I-40 Challenge will consist of increased patrols from state police/ highway patrol agencies along the I-40 corridor. In Tennessee, I-40 enforcement efforts will increase on the busiest travel days during the Thanksgiving holiday starting on Wednesday, November 22nd, and continuing through Sunday, November 26th.

Nashville, TN – Thanksgiving travelers will not be delayed by construction on Tennessee roads during this busy travel holiday. TDOT will halt all lane closure activity on interstates and state highways in anticipation of higher traffic volumes across the state.
All construction related lane closures will be stopped beginning at noon on Wednesday, November 22nd, 2017 through 6:00am Monday, November 27th, 2017.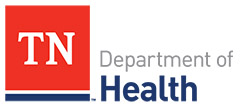 Nashville, TN – Antibiotics play an integral role in fighting bacterial infections, but lose their effectiveness if not prescribed and taken appropriately. Bacteria are becoming resistant to antibiotics and experts say that increasingly causes trouble in treating some infectious diseases.
During Antibiotic Awareness Week, the Tennessee Department of Health and the Centers for Disease Control and Prevention want to raise awareness about the importance of appropriate antibiotic use and combating the threat of resistance.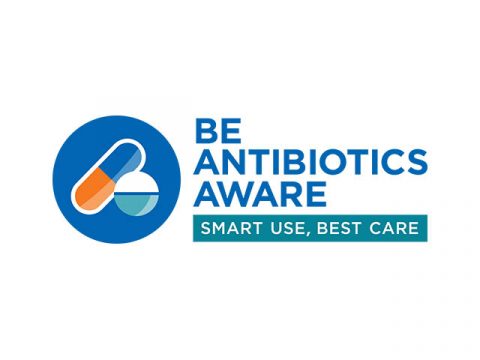 [Read more]
Applications must be submitted by January 12th, 2018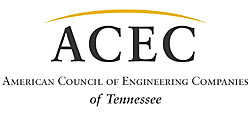 Nashville, TN – The American Council of Engineering Companies of Tennessee (ACEC Tennessee) is accepting scholarship applications from Tennessee engineering and land surveying students, and Tennessee Engineering Foundation (TEF) will award four additional scholarships to advance the industry. Applications for all scholarships must be submitted by January 12th, 2018.
[Read more]