Tennessee Department of Commerce and Insurance says If a Summer Job Sounds Too Good to Be True, It Probably Is

Nashville, TN – As the school year comes to a close, many students are searching for a way to earn money during summer break. T
he Tennessee Department of Commerce and Insurance's (TDCI) Division of Consumer Affairs is advising Tennesseans of all ages to be wary of job announcements that promise more than they can deliver.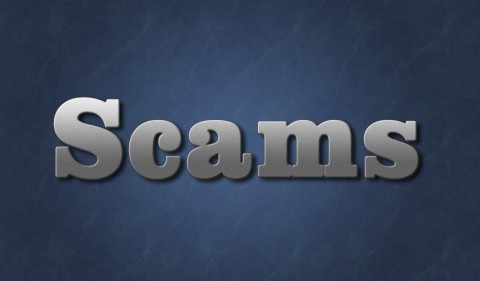 [Read more]

Nashville, TN – Finding a student job that's flexible with school schedules can often be difficult. While they do exist, there are some job offers that really are too good to be true.
As the fall school semester approaches, the Tennessee Department of Commerce & Insurance's (TDCI) Division of Consumer Affairs wants to equip students with the basic knowledge needed to avoid job scams.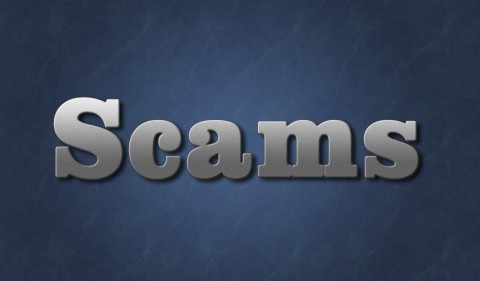 [Read more]
Employers in Middle Tennessee Lead the State in Job Opportunities

Nashville, TN – The Tennessee Department of Labor & Workforce Development (TDLWD) reported Friday almost 200,000 jobs were posted on the Jobs4TN.gov website in April 2016.
That marks a record number of job opportunities employers across the state have advertised on the site.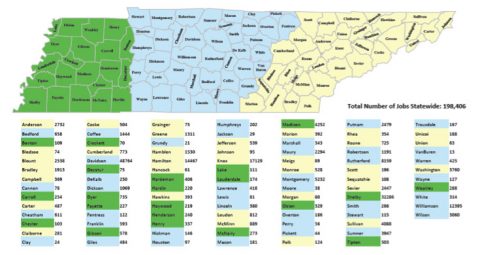 [Read more]
Estimated 112,000 Total Jobs in All Occupations Available Annually Through 2024

Nashville, TN – Tennessee's long-term industry and occupational employment projections for 2014-2024 released today show the state's economy is projected to grow at an average annual rate of 1.3 percent with expected total employment of 3,432,960 by 2024 and total annual job openings of 112,880.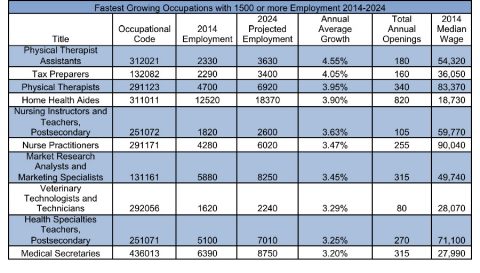 [Read more]
Tennessee Unemployment Rate at 4.5% for March

Nashville, TN – Tennessee employers have tens of thousands of open positions for qualified applicants across the state.
With Tennessee's latest unemployment rate at its lowest level since June 2007, there is an abundance of job openings across the state.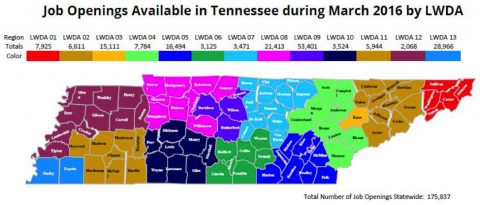 [Read more]
Memphis, TN – The IRS tax return processing center at 5333 Getwell Road, TN, is looking to fill full time seasonal positions for the income tax filing season.
"We are seeking 168 temporary seasonal IRS Contact Representatives to work primarily with taxpayers and their representatives through telephone contact." said IRS Spokesman Mark Green. The Positions are located in Wage and Investment, Accounts Management Operation, 5333 Getwell Road, Memphis, TN 38118.
The seasonal positions are full time and usually run six months, but may be extended with the opportunity to return year after year. [Read more]
JOBS4TN allows users to search local Jobs, Share on Social Media, Filter Attributes and Requirements

Nashville, TN – Tennessee Department of Labor and Workforce Development Commissioner Burns Phillips is announcing a new iPhone and Android mobile app that makes finding available Tennessee jobs even easier.
The free mobile application brings thousands of employment opportunities to smart phones with advanced location and sharing features.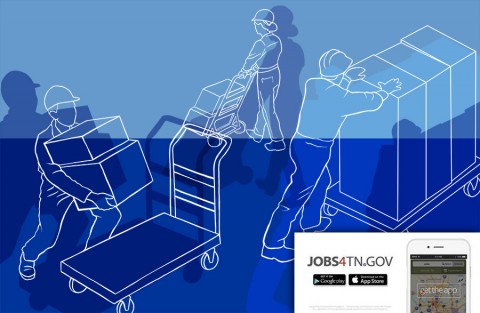 [Read more]
Improving educational opportunities and outcomes for Tennesseans critical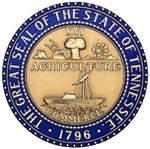 Nashville, TN – Tennessee Governor Bill Haslam today was sworn in for his second four-year term as the 49th governor of Tennessee, addressing thousands of Inaugural attendees from across the state on War Memorial Plaza with the State Capitol serving as the backdrop.
"One thing I can guarantee you that we are not going to do in the next four years is coast to the finish line," Haslam said. "The decisions that we make in the building behind me are too important; too important to the 6.5 million Tennesseans who are alive today and even more important for the generations that will follow us."
Retail outlook suffers as less optimistic consumers see increased financial woes

Yonkers, NY – The Consumer Reports Index's employment measure dropped back into negative territory this month largely due to a continued decline in the percentage of new job starts in the past 30 days.
The Index's employment measure, which compares the percentages of Americans that reported starting a new job with those that reported losing a job in the past 30-days, slipped to 49.7 from 50.5 last month. When the measure drops below 50 it is an indication that more Americans are losing jobs than they are starting. [Read more]
Jobs4TN Online brings self-service functions to job seekers and employers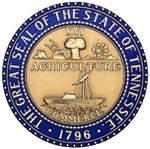 Nashville, TN – Tennessee Governor Bill Haslam and Department of Labor and Workforce Development Commissioner Karla Davis today announced a new jobs database to help connect job seekers with Tennessee employers.
Jobs4TN Online is a virtual recruiter, automatically notifying job seekers when jobs they may qualify for are posted and notifying employers when candidates who fit their needs register.
The online database contains positions from job orders placed directly by Tennessee employers, from corporate Internet sites, and from major job search engines. Jobs4TN Online also identifies available green jobs. [Read more]