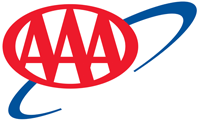 Tampa, FL – The national gas price average has been steadily decreasing for nearly two weeks dropping from the year-to-date high of $2.61 (on February 5th) to today's national average of $2.53.
Motorists in nearly every state are paying less on the week with Midwest and Southern states seeing the largest price drops at the pump. Hawaii (+2 cents) and Indiana (+1 cent) were the only states to see increases.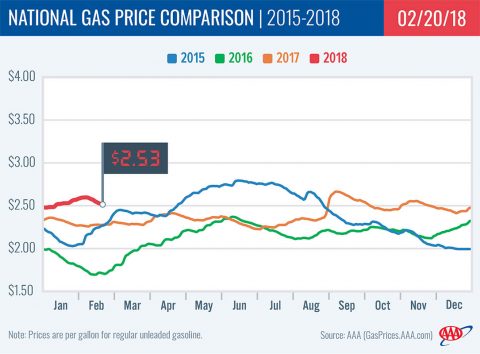 [Read more]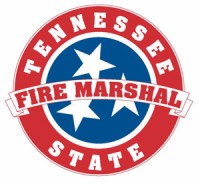 Nashville, TN – While candles are a popular piece of home décor, the Tennessee State Fire Marshal's Office (SFMO) wants to remind consumers that flamed candles must be used properly to avoid loss of life, injury, and significant property damage.
Though candles might make homes feel festive, they can also cause tragedy. In 2017, Tennessee fire departments responded to 77 home structure fires that were started by candles. These fires caused two civilian fatalities, two civilian injuries, one firefighter injury and $2,447,363 in direct property damage.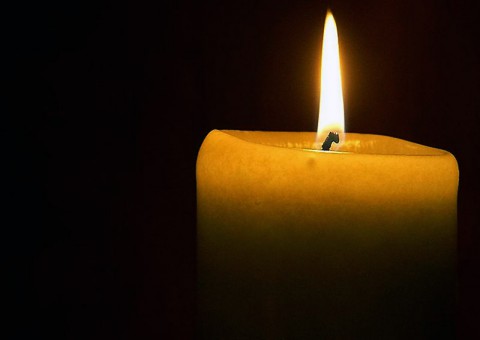 [Read more]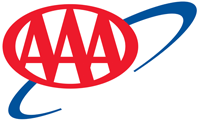 Nashville, TN – Motorists are seeing steady discounts at the gas pump. Tennessee gas prices have declined the last 12 consecutive days for a total of 7 cents.
During the past week, the state average dropped 5 cents. Sunday's state average of $2.34 is 1-cent less than a month ago, yet 27 cents more than this time last year.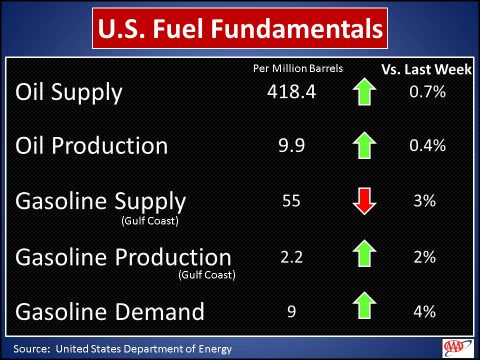 [Read more]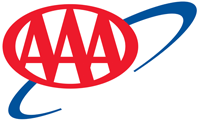 Tampa, FL – At $2.58, the national gas price average has decreased for the first time week-over-week this year. Today's price is 3 cent less than last week, 6 cents more than a month ago and 30 cents more than a year ago. Motorists can find gas for $2.50 or less at 53 percent of gas stations across the country.
"Gas price averages are less expensive for 78 percent of states compared to last Monday. Motorist filling up in the Midwest, South and East Coast are most likely to see the positive change at the pump," said Jeanette Casselano.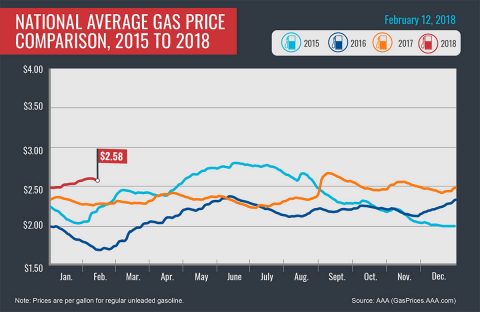 [Read more]
February Gas Prices are Highest in Four Years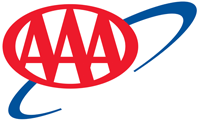 Nashville, TN – Energy prices took a nosedive on the stock market last week and gas prices are declining as a result.
Tennessee gas prices declined 2 cents during the past week. Sunday's state average of $2.39 is 9 cents less than a month ago and 34 cents more than this time last year.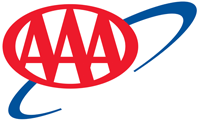 Tampa Bay, FL – Consumer gasoline demand continues to climb, hitting its highest point yet in 2018. According to the Energy Information Administration's latest weekly petroleum status report, demand registered at 9.11 million b/d.
That is 70,000 b/d more than the previous week and nearly 170,000 b/d more than the same time in 2017.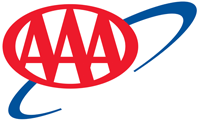 Washington, D.C. – The most in-depth drowsy driving research ever conducted in the U.S. using footage of everyday drivers found that the percentage of crashes involving drowsiness is nearly eight times higher than federal estimates indicate, according to the AAA Foundation for Traffic Safety.
The difficulty in detecting drowsiness following a crash makes drowsy driving one of the most underreported traffic safety issues. The new research provides an unprecedented analysis of in-vehicle dashcam video from more than 700 crashes, confirming that the danger of drowsy driving soars above official estimates.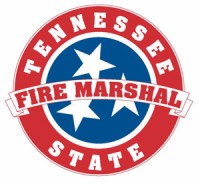 Nashville, TN – Manufactured houses are the scenes of relatively few fires every year in Tennessee, but those fires are among the deadliest, causing a disproportionate number of fire-related deaths and prompting the Tennessee State Fire Marshal's Office to remind consumers that fire safety should be a priority in all homes, especially during the high-risk winter months.
Manufactured homes – also known as mobile homes or trailers – are transportable structures that are fixed to a chassis and specifically designed to be towed to a residential site.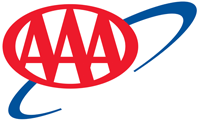 Nashville, TN – Gas prices increased throughout most of the country last week, albeit by a smaller margin than recent weeks. Tennessee gas prices increased by only 1-cent during the past week, but declined by fractions of a penny over the weekend.
Sunday's average price of $2.41 is 14 cents more than a month ago, and 34 cents more than this time last year.

Nashville, TN – The Tennessee Department of Safety and Homeland Security (TDOSHS) warns Tennesseans to exercise caution when searching online for driver services information.
Tennesseans should be aware that deceptive, yet legal websites publish misleading information containing unofficial guidance on how to renew a driver license in order to scam customers into paying renewal fees.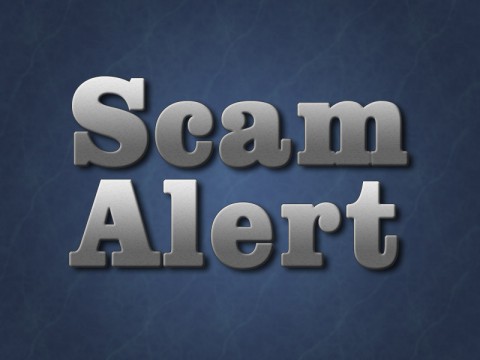 [Read more]