LBL's Nature Station is an Outdoor Classroom for Homeschoolers during April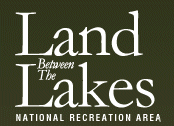 Land Between the Lakes, KY/TN – Homeschooler families are invited to use Woodlands Nature Station as their outdoor classroom in April at Land Between the Lakes National Recreation Area.
Visitors can pick up a "Nature Discovery Activity Book" to guide them through exploration activities such as a pond exploration, bird identification, and animal math. Complete activities to earn an official Nature Discovery Patch and certificate. Nature Station is open 10am-5pm, daily in April.
Homeschoolers can take part in staff-led programs about trees, pioneer skills, fossils, and more. Programs will be offered throughout April. See the complete program schedule below. Visitors can also enjoy up-close animal encounter programs daily at 3:30pm and see the Parade of Raptors at 4:30pm.
Homeschoolers' Day at Nature Station will be Friday, April 28th, 10:00am-3:00pm and will focus on forests. Activities about tree identification, forest animals and the role of fire in the forest, will highlight the day.
Programs included with regular admission: ages 13 and up $5.00; ages 5-12 $3.00; ages 4 and under are free. Some programs require additional fees, as noted. Fourth grade students can go to https://everykidinapark.gov/, get their free Every Kid in a Park pass, and get their family in for free.
Nature Discovery self-guided activity book and activities available 10:00am-5:00pm, daily.
Additional programs include:
Sun, Apr 2 | 1pm-4pm | Be a Zookeeper | $12/child | Registration Required 270.924.2020
Tue, Apr 4 | 11am-12:30pm | What's in a Name Safari: Learning Names in Different Languages
Fri, Apr 7 | 11am-12:30pm | Iron Furnace History Walk
Mon, Apr 10 | 2pm-3:30pm | The Mighty Tree Puppet Show and Discovery
Tue, Apr 11 | 11am-12:30pm | Pioneer Skills: Nature Shelters, Edible Plants and More!
Fri, April 14 | 2pm-3:30pm | Fossil Discovery and Craft
Tue, Apr 18 | 1:30-4pm | Creek Exploration Field Trip | $5/person | Registration Required 270.924.2020
Fri, Apr 21 | 1pm-4pm | Be a Zookeeper | $12/child | Registration Required 270.924.2020
Tue, Apr 25 | Ongoing from 10am-4pm | Homeschoolers' Kayak Day | One Hour Rentals | 10/Kayak
Fri, Apr 28 | 10am-3pm | Homeschoolers' Day
Afternoon Animal Encounter programs at 3:30pm, daily:
Mon | Turtle Time!
Tue | Dinner Time for Bald Eagle
Wed | For Goodness Snakes!
Thu | Talkin' Turkeys
Fri | Help Us Feed the Deer!
Sat | Dinnertime for Red Wolves
Sun | Mystery Animal Encounter
Parade of Raptors at 4:30pm, daily.
Check out the Calendar of Events for more information about weekend nature programs.
To find more information about Land Between the Lakes, log on to the official website at www.landbetweenthelakes.us or call 800.LBL.7077 or 270.924.2000.